ECCE/ECAB 2021
---
MACBETH is proud to invite you to the 13th European Congress of Chemical Engineering (ECCE) and the 6th European Congress of Applied Biotechnology (ECAB) which will take place from September 20-23, 2021 as virtual event.
MACBETH is host of the 2 Sessions "MACBETH Membranes And Catalysts Beyond Economic and Technological Hurdles 1 & 2" under the topic Engineering Processes & Products scheduled on Tuesday, 21st of Sep starting at 11:00 a.m. and 2:45 p.m. The sessions will be chaired by Prof. Dr. Horst Zanthoff.
In the Tandem Lecture "MACBETH – A revolution in catalytic reaction technology", Fausto Gallucci and Frank Stenger will highlight MACBETHs breakthrough CMR technology and its potential to improve chemical processes for a sustainable and resource efficient process industry in future. Moreover, the following talks and posters will present recent results of all MACBETH cases.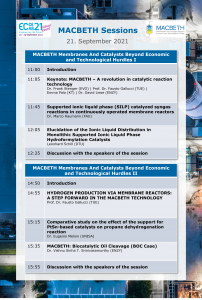 ❗️ Register now ❗️
❗️ Early Bird registration until 15 July ❗️
👉 For more information, conference program and registration see www.ecce-ecab2021.eu
---