MACBETH in SPIRE Brochure 2019
---
The SPIRE 2019 Projects' Brochure has been published and it's a key document introducing 2019 projects selected and commissioned by SPIRE under the European Commission's Horizon 2020 programme.
SPIRE projects aim at developing technologies and value-chain solutions to transform the EU Process Industry and create long-term sustainability for Europe through cross-sectorial technological and non-technological innovation efforts.
In 2019, MACBETH Project and 19 further SPIRE projects were launched with the aim to achieve three key objectives:
Developing and deploying climate-neutral solutions;
Closing the energy and feedstock loops;
Achieving global leadership in climate-neutral and circular solutions, accelerating innovation and unlocking public and private investment to boost competitiveness.
Read more about how projects financed under SPIRE HORIZON2020 programme are improving European competitiveness, jobs and growth, while creating new innovations for a climate neutral and truly circular society through process industries and find the SPIRE 2019 Projects' Brochure.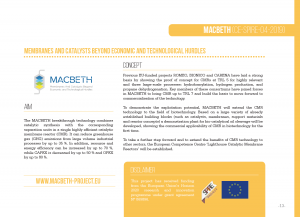 ---