New Press Release from Evonik
---
The road to greater energy efficiency: MACBETH project reaches important milestone with positive evaluation by EU
Evonik published a new press release about MACBETH project reaching the first milestone after 18 months of project duration and the first successful project evaluation by the EU Commission. The project officer and the project reviewer for the EU Commission believe that MACBETH is on the right track to make important large-scale reactions significantly more energy efficient. In particular, the subproject hydroformylation (HYFO case) being carried out at Evonik at the Marl Chemical Park will take the next step from laboratory scale to demonstration plant under under real, industrial conditions to investigate the novel CMR technology in large-scale application.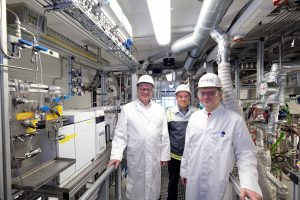 Figure 1: Project team MACBETH in the technical center, from right to left: Prof. Dr. Robert Franke, Dr. Frank Stenger, Dr. Marc-Oliver Kristen
Read the Evonik press release online here.
Please find the Evonik press release and MACBETH publications for download in section Public docs.
---